Professional Local & International Movers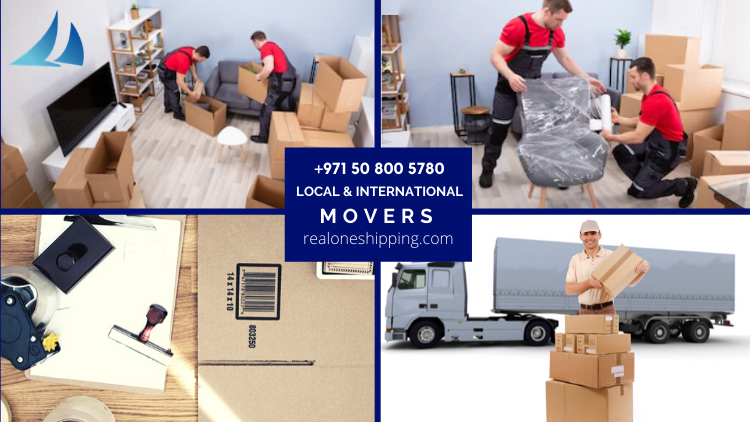 Real One has been established in the field of Moving and Shifting since 1974 , providing quality, personalized services in commercial and personal effect moving, relocation, artwork and storage.
The friendly nature of the business, and in addition the international network of selected partners, allowed Real One to provide customized best quality international moving services with sense of responsibility.
The company can arrange customized safe and fully organized storage facilities, and also offering our customers storage services for short or long periods of time.
Real one, Movers in Dubai, also have the experienced packaging team, fleet of vehicles and heavy trucks, led by the experts of Operations team. The company consists of full-time staff, including trained packers, relocation specialists, truck and van operators and transport consultants.
Our Specialty is that with the experienced team efforts, we are continuously providing the solutions of any complications in packaging, handling and relocation with the commitment of team. Our packers & movers staff are constantly updated with all current global practices and future trends.
Every customer has a point of contact during each project and all it has to do is monitor as we deliver what we have promised. The ethics of our company is that we do not avoid the constant challenges of corporate responsibility. We firmly believe in the phrase "fulfilling the needs of the present without exposing the ability of future generations to meet their own needs".
With our team and our experience at our disposal, we can confidently offer you all the services listed below.
Home Relocation
Office Relocation
International Moving
Storage
Movers & Packers Dubai - House and Office Shifting
Real One Movers has been successfully transporting domestic and foreign products since its inception in 1974. We offer a unique door-to-door transport experience with all modes of transport - by sea, by air and land, and anywhere in the world. Because a transfer requires high quality services (packaging, loading, customs clearance, etc.), we perform your transfer using only the best partner representatives in the country of origin and the country of destination.
We handle the transportation and relocation of individuals, companies, embassies and organizations. We offer the following services related to international transport:
Exports: Transportation from UAE to all destinations worldwide
Imports: Transportation from anywhere in the UAE, GCC, INDIA, PAKISTAN & CHINA
Transportation within GCC countries and Middle East Region
The transport consultant organizes your transport and supervises it from the beginning to the end, having the absolute control. It is at your side throughout your transport, providing you with advice or solutions.
For export, your household items are professionally packaged by our permanently selected staff and loaded into containers or special wooden boxes (lift vans), where they travel by sea to the port of destination. Reliable shipping companies are selected to transport it safely around the world.
For road transport, our specially closed trucks or one of our approved partners are used.
When you want air transport, we pack your items in specially reinforced "TRI-WALL CARTONS" cartons to ensure their safest transport.
Selected reliable shipping and airline companies provide safe transportation around the world. The global network of our selected partners has been selected by taking advantage of our 3 decades of operation to ensure timely and efficient customs clearance and delivery to your new home. In most destinations, carriers offer a variety of additional services to help you adjust to your new home.
Get in touch with us today for expert advice and customized quote for all your local or international relocation needs.